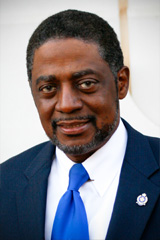 Frederick E. (Fred) O'Neal
Fred O'Neal is a businessman, church leader, and community volunteer in the Carroll County, West Georgia area. His community is a rural suburban community located 40 miles west of Atlanta. Fred has over 4 decades of experience in business as a financial services executive. He has served as a Financial Advisor for 35 years. He has been married to the former Lillian Rozena Wilson (O'Neal) and is the father
of two adult children, Wilson age 30, and Maya age 25.
Fred considers service to his community paramount as the work underscores his personal purpose of leaving individuals who come in contact with him much better off than if they had never met him. He has served in countless roles for various non-profit organizations including the Community Foundation of West Georgia, The Salvation Army, The Carroll County Emergency Shelter and Carrollton Elementary School Advisory Board. Current active affiliations include Tanner Health Systems Board of Directors, University of West Georgia Foundation, Richards College of Business Board of Advisors, Community Diamonds Foundation Board of Directors, Carrollton Lions Club Board of Directors and City of Carrollton Redevelopment Authority.
He was named a Melvin Jones Fellow by the Lions Club International, and has received recognitions for community service and leadership from numerous organizations including the Carrollton Optimist Club, Carrollton Douglasville Alumni Chapter of Kappa Alpha Psi Fraternity, Incorporated, The Rome Alumni Chapter of Alpha Kappa Psi Sorority Incorporated, the Carrollton Union Missionary Baptist Association, and Edward Jones Region 123, where an annual award was named in his honor in 2019.
A man of deep faith, Fred counts his affiliation with First Baptist Church of Carrollton his most important work. Fred has been an active member for over 40 years. Currently he serves as the Chairman of the Deacon's Ministry. He was ordained as a Deacon February 12, 1989. Under this leadership role, he has worked to improve member services and church finances, lead the on boarding of the new Pastor, served as Interim Leader during pastor vacancies, and engaged ministries to foster a stronger sense of spirituality. The church has a member role of approximately 350 members, with active attendance averaging 80 to 125 members per Sunday. (The Covid pandemic has reduced face to face attendance.). In addition to serving in his present role, Fred has led the Executive Board, chaired the Capital Campaign, and helped serve food as part of the Kitchen committee.
Fred is currently pursuing a Doctorate of Ministry Degree at Pittsburgh Theological Seminary with a focused specialization in Intergenerational Black Church. His vision, through Christ as his savior, is to marry his business acumen and personal faith context to improve his community, the church, and his personal witness through all of his service affiliations.